La Vita Motel – Wildwood Crest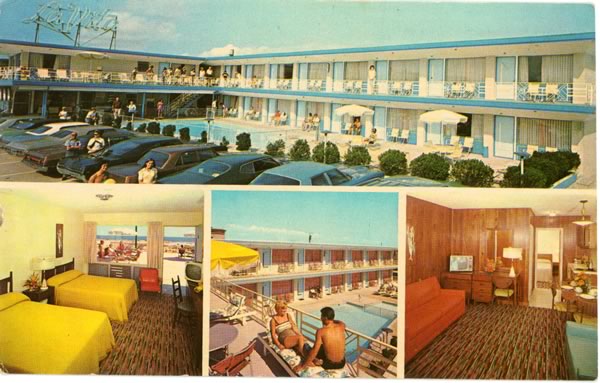 This is an early 70's postcard from the La Vita Motel, 8400 Atlantic Avenue in Wildwood Crest. We stayed there every summer from 1972 through the early 1980's. At night, the sign was neon pink and the motel was lit with blue and red lights. Next door was the Sands Motel.  In the early years of our stay, there was a vacant lot across the street (where I used to fly kites), so the motel had an ocean view. Later, three (I think) motels were built there, so our great view was gone. The owners, Ann and Charlie Weymiller and their sons, Bill and Gary were super nice people, so we always enjoyed our visits.
With only 33 rooms, La Vita had much more of a family feel than the larger motels in the neighborhood. Many guests, like us, returned year after year.
La Vita went "condo" several years ago. The building was painted a dreadfully boring tan color and many of the cool architectural features were removed. The project went bust though — La Vita has been sitting vacant for the last 3 years.